On Christmas Day around 2:00 pm Rusty, Catherine and I feed the horse treats, like apples, carrots and home made cookies! You are welcome to join us (call to get exact time) in giving the horses their Christmas treats. Yes, the chickens get treats, too. I always make them their favorite food, spaghetti. I think it reminds them of worms!
For Christmas 2013 the horses at The Riding Academy received carrots (25lbs), apples (9lbs) and Oatmeal Cookies (3lbs).
Recipes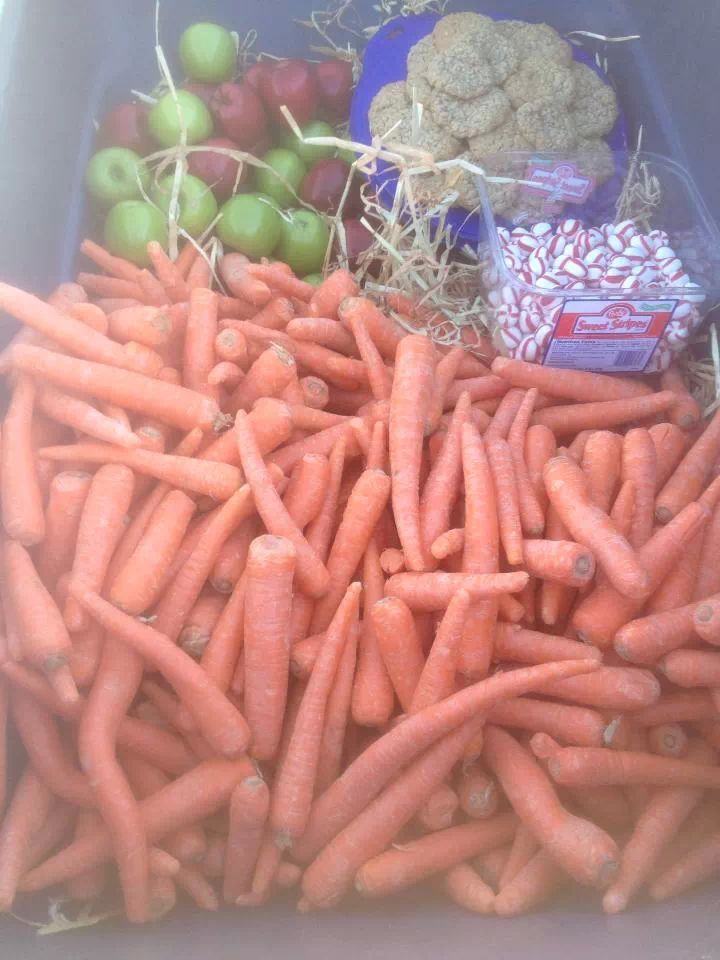 Apple and Oat Chewies
Ingredients
1 1/2 cups unsweetened apple sauce
1 cup oat bran cereal or ground oatmeal
1/2 cup all purpose flour
Directions
Preheat oven to 350 degrees
Oil a 9" x 9" square baking pan
Spread the batter evenly in the cake pan and bake for 20 to 30 minutes until firm to the touch
Keep unused treats in the refrigerator
Horse Cookies
Ingredients
1 cup oatmeal
1/4 cup molasses
2 carrots or an apple
1 tablespoon sugar
1 cup flour
1/4 cup water
Pinch of salt
Directions
Preheat the oven to 350 degrees
Roughly chop carrots or apple and mix with dry ingredients
Stir in all wet ingredients and the fill a baking sheet
Score into sections and spray with a small amount of oil
Bake for 15 minutes
Horse Muffins
Ingredients
3 cups oats
2 Tablespoons of honey/molasses
2 cups of water
1 shredded apple
3 tablespoons of flour
2 tablespoons of brown sugar/sugar
2 drops of food coloring
small handful crushed peppermints
small box raisins
Directions
Mix oats, water, and honey.
Microwave for 2 minutes.
Add shredded apple, brown sugar, crushed peppermints, food coloring, flour, and raisins.
Place back in microwave for 2 more minutes.
Preheat oven to 375 degrees.
Put mixture into muffin tin. Put in oven for about 15 minutes or until lightly golden brown. Note: the muffins do not rise.
Bridle Delight
Ingredients
1 cup flour
1 cup oats
2 cups of water
1/2 cup finely chopped carrots
1/2 cup finely chopped apples
1 teaspoon sugar
1 teaspoon salt
2 teaspoons canola oil
4 peppermint candies
1/3 cup molasses
Directions
Mix together all ingredients in a large bowl.
Roll into one inch balls and flatten.
Put in oven at 325 for 20 minutes.
Sweet Horse Treat
Ingredients
One cup rolled oats
1/4 cup water
A pinch of honey
A pinch of smooth peanut butter
1/4 cup of your horse's favorite grain
1 small carrot
Directions
Put the rolled oats in the bowl and add the water.
Add a pinch of honey and smooth peanut butter.
Add your horse's favorite grain and stir. If it is not sticking add more honey.
Cut up 1 small baby carrot. Roll the carrot pieces in the mixture to make little balls (not too small though).
Put the carrot balls in the refrigerator to harden then serve.
Apple-Carrot Horse Biscuit
Ingredients
Honey
1/2 apple
Grated carrots and carrot chunks
Milk
Whole-wheat flour
Oatmeal
Directions
Mix grated carrots and carrot chunks, grated apple, oatmeal, whole-wheat flour and honey in a bowl.
Stir until sticky and doughy.
Add a little milk to the mixture milk to make it moist, but still doughy.
Shape the dough into balls and bake at 350 degrees for 15-20 minutes.
Let cool.
Apple Horse Treat
Ingredients
2 sliced apples
1 cup brown sugar
1 cup oats
2 tablespoons margarine
Directions
Melt the 2 tablespoons of margarine at a medium temperature in a sauce pan.
Add brown sugar and stir until it starts to boil then bring to a simmer.
Dip apple slices in the sugar mixture, then roll them in the oats.
Let cool.
Barn Cookies
4 cups grain (like oats, steam-rolled)
8 tablespoons flour
1/2 cup molasses
3/4 cup water
Directions
Combine all ingredients in large mixing bowl.
Stir with large spoon until mixture is the consistency of thick cookie dough.
Drop tablespoons of dough on a greased cookie sheet, spacing cookies 1 inch apart.
Bake at 300 degrees for 1 hour or until crisp.
Remove from oven, and cool for 30 minutes.
Easy Horse Cookies
Ingredients
1 cup carrot grated
1 apple grated
2 Tablespoons corn oil
1/4 cup molasses
1 tsp. salt
1 cup rolled oats
1 cup flour
Directions
Preheat oven to 350 degrees.
Lightly grease cookie sheet.
In a large bowl, mix carrot, apple, corn oil and molasses together.
Fold in salt, oats and flour until well mixed.
Spread dough out in one big piece on the cookie sheet.
Score dough with a knife to make it easier to break apart after baking. (Or, roll dough out and cut with cookie cutters)
Bake for 20 minutes or until brown.
Let cool.
By , Mindy C Beohm
2006 Recipe
I made Oatmeal cookies with apple sauce and used the recipe of the back of the Quaker oats Box. I think the horses like these cookies better, then last years.
2005 Recipe
1 -5 lbs of flower (white or wheat)
1 - 2 lbs box of brown sugar
5 fresh TRA eggs
1 large box of oatmeal
3 3/4 cups of applesauce
20 table vegetable oil
24 oz - 2 bottles of molasses (for 2006 we are going to try 1 bottle of molasses and 1 bottle of honey)
5 cups of hot water
5 tablespoons of salt
Preheat oven to 360
Mix all ingredients together (with hands)
Foil cookie sheet and then Pam foil
Pam your hands and spread cookies dough on to foiled and Pamed cookie sheet
Cook approximately 35 minutes until done
Brake in to cookies when cooled
Makes 5 cookie sheets